BULAWAYO – The first black medical team to work at Mpilo Central Hospital after its establishment in 1958 has called on government to refurbish the institution back to its former status when it used to be ranked as the second best in Africa.
This clarion call comes as Mpilo Hospital celebrated its 60th anniversary.
In its hey days, Mpilo alongside Makerere Hospital in Uganda were the top two health institutions in Africa that offered quality treatment to patients and best training to doctors.
The hospital was built during the Federation of Rhodesia and Nyasaland when Zimbabwe was Southern Rhodesia, Zambia – Northern Rhodesia and Malawi – Rhodesia Nyasaland.
Mpilo's architecture resembles that of Harare Central Hospital and Llewellyn in Kitwe, Zambia, because of the federation.
Situated next to Barbourfields Stadium in Mzilikazi, the hospital used to attract a large contingent of junior and senior doctors from all over the world who were committed to learn best practices.
This was revealed by the first black doctor to work at Mpilo, Dr Sipho Leonard Vivian Zwana, during the hospital's 60th anniversary celebrations on Friday.
Dr Zwana, now 85, said Mpilo must be reborn and claim its place as the foremost hospital in Zimbabwe.
"We'll be most grateful to this 'new dispensation' (government) if they can do this. We'll believe in it if we see results and not just talk," he said.
Also present at the anniversary celebrations was a team of Mpilo's first black nursing staff who included Slyvia Ndlovu nee Mguni who is 87-years-old and other nurses.
Both Dr Zwana and this team were honoured by guests and given a standing ovation for their work at Mpilo.
Mpilo Hospital is now a former shadow of its former self, shunned by well-to-do patients due to poor health service yet it is one of Zimbabwe's biggest referral hospitals.
A failing economy has negatively affected operations and reduced its health care standards.
To commemorate the 60 years, historian Pathisa Nyathi wrote a book detailing the history of Mpilo since 1958 to date.
Health and Child Care Minister Obadiah Moyo, who was guest of honour, recounted how Mpilo was run and managed by whites and the first superintendent was Dr Frazer Ross.
"There was no school of nursing and no black nurses. One of the first black nurses to work in this hospital was Juliet Sagonda who presented flowers to wife of the governor general, Lady Dalhouse, at the opening ceremony in 1958. Blacks used to be treated for free and only stated paying in 1964," he said.
"I want to congratulate the few cadres who were there in 1958 and have made history to be present today as we commemorate this very auspicious occasion."
The minister said it was time the current administration took responsibility and made sure Mpilo's health delivery system is robust enough to meet changes in diseases pattern and population growth.
"In those years for example, up to 70 babies would be delivered per year and about 20,000 people would be treated in the same period. The population in Bulawayo totaled 159,800 broken down as 121,000 Africans, 1,500 Coloureds, 1,300 Asians and 36,000 Europeans.
"Now, Bulawayo has around a million people and the number continues to grow."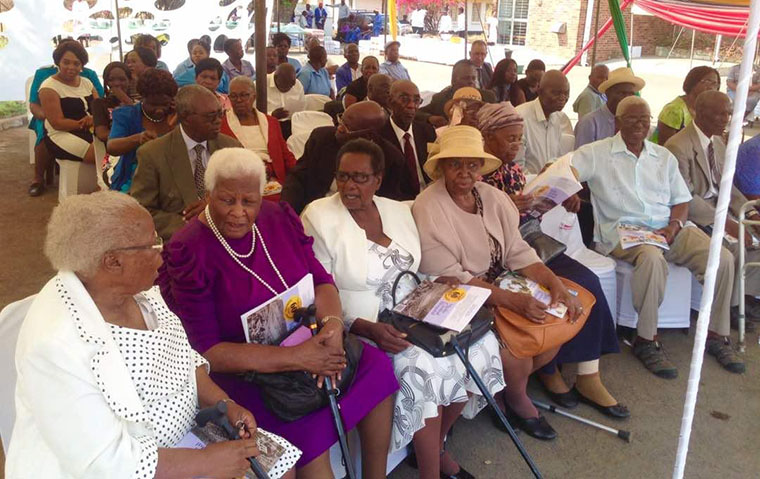 Moyo said the service provision at hospitals was badly affected by the economic crisis. Hospitals would perform better when central government can disburse more funding to health, he said.
Moyo said he was shocked to see that at Mpilo's maternity ward, mothers who had just delivered slept on the floor because there is no bad space.
"That's unacceptable. We should improve in this 'new dispensation' because that's deplorable. I don't blame the staff, but this is something we must all work on, we want to bring five-star quality. We should train nurses and employ then unlike now when we send them into the streets first. The 'new dispensation' is committed to work and see an improvement in the health sector. A nation with healthy people is a progressive nation and indeed a strong nation," he said.
"As we celebrate the 60 years, let's reposition Mpilo Hospital and make it a center of excellence. We need to strengthen the referral system so that Mpilo operates at its correct level. We need a district hospital in Bulawayo so that less serious conditions are treated there and allow Mpilo to work on complicated cases."
The minister also recommended that the Mpilo's Management Board and Executive must utilise the expertise of the old medical staff by creating a community liason committee to receive guidance on how to run the institution.
Choppies Supermarket had offered to chip in with food hampers to Mpilo's first black medical team as and when necessary in honour of their service, he said.
Mpilo has an establishment of 2,277 staff with 789 nurses and 218 doctors.