KAMPALA, Uganda — Kanye West has met with Uganda's president during a visit to the East African nation and given the 74-year-old leader a pair of white sneakers.
President Yoweri Museveni said he and the American rapper held "fruitful discussions" on Monday about promoting tourism and arts.
West and his wife, reality TV star Kim Kardashian West, have been vacationing in a national park in Uganda. He is said to be recording music in a tent.
Uganda's presidency released photos of a hoodie-wearing West meeting Museveni at the State House and exchanging gifts.
While excited tourism officials see the visit as an endorsement of the country's tourism potential, some Ugandans wryly pointed out that Museveni cracked down on hoodies earlier this year when he announced that motorcycle riders could no longer wear them in a bid to fight rising crime.
Kanye West announced his trip to Africa abruptly last week, where he said he was going to complete his next album, Yandi.
"We have to go to what is known as Africa. We have to go and find out what it is really called and just grab the soil… And have my kids stay up in the studio. And have the mic open in the studio so you can hear nature while we are recording," Kanye said during the interview with TMZ.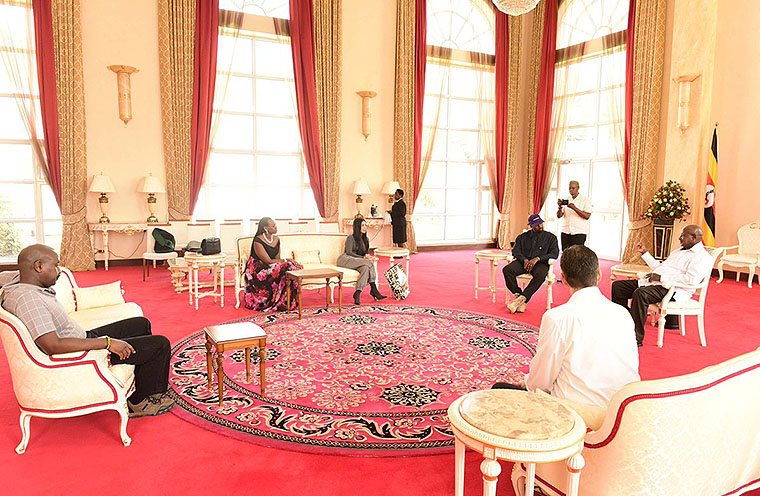 Kanye who has been sharing videos on his visit, live-tweeted one of his recording and shared a video where he was wrapped in Ugandan flag colors.
The president, one of Africa's longest-serving leaders, has been at the center of unrest in recent weeks as Uganda's large youth population increasingly expresses frustration over unemployment and accuses Museveni of being out of touch.
Uganda's government has been criticised over its treatment of a local pop star-turned-opposition lawmaker, Bobi Wine, who alleges torture by security forces. The government denies it.