HARARE – Dozens of people were killed in Zimbabwe's second worst bus disaster on Wednesday evening.
Police said they had recovered 47 bodies from the scene of a bus collision near Rusape, 170km southeast of Harare. Some 70 other people were injured.
The two buses, one owned by Bolt Cutter and heading to Mutare, and the other operated by Smart Express bound for Harare, rammed into each other when the Smart Express driver attempted to overtake a haulage truck in a solid double white line 'no-overtaking' zone at around 5.30PM.
The Smart Express bus was completely ripped open the length of its left side. The rear panel of the bus sheared off and sat a few meters from where most of the bus came to a stop off the road.
The Bolt Cutter bus had its front completely destroyed, mangling the door and trapping passengers inside.
Witnesses told reporters that the Smart Express driver and his conductor survived, but fled the scene before police could arrive.
The government sent its condolences and vowed "stern measures" to prevent a similar disaster.
Police spokesman Assistant Inspector Paul Nyathi said police had accounted for the bodies of 45 adults and two children, but warned the death toll could rise.
The cause of the crash is under investigation.
The disaster is already Zimbabwe's second highest death toll from a bus crash since the Nyanga Bus Disaster of August 1991 that killed 89 people.
The second worst disaster involved a King Lion bus on its way to Zambia which killed 45 people in the Nyamakate area, about 30km before Makuti on the Harare-Chirundu highway in June last year.
That second spot had for a long time been held by a Mhunga bus that ploughed into the Shashe River near Masvingo on the highway to Harare in June 2002, killing 40 people.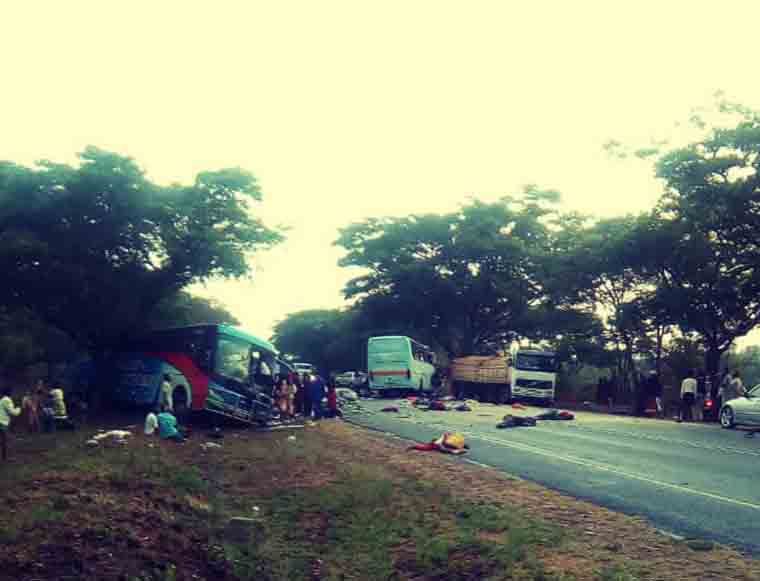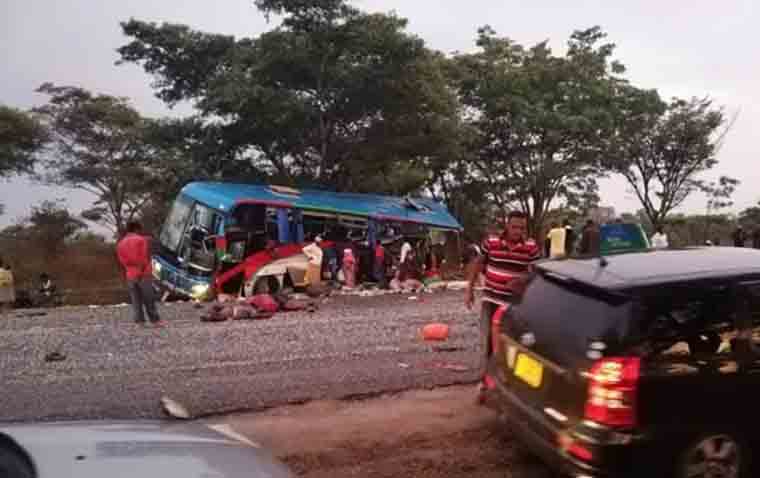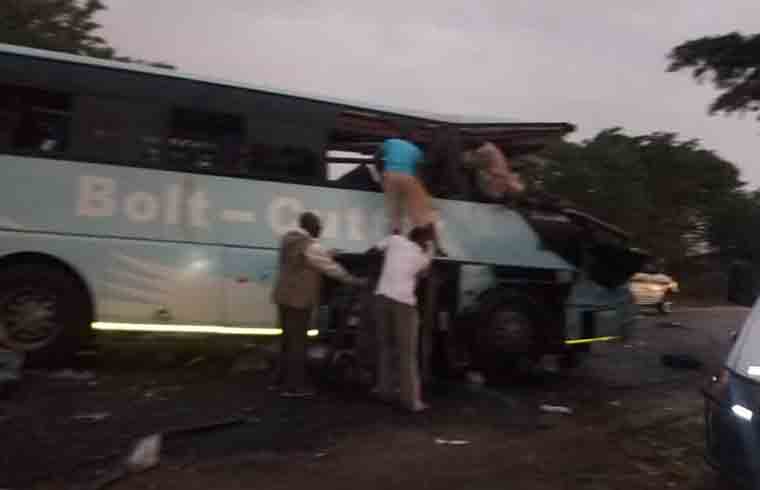 Deputy Transport Minister Fortune Chasi said on Twitter: "Very sad to learn of the accident in Rusape. Totally needless loss of lives. This event should be the last before stern measures are taken to rein-in public service vehicles and their owners."
Other motorists helped the injured at the scene with pictures circulated online showing bodies strewn on the tarred road as well as off it. Some injured passengers lay disoriented before ambulances could arrive.
There were stories of heroism as well, with some motorists opening baggage compartments on the side of the Bolt Cutter bus and climbing on top to rescue passenger trapped inside the bus, whose door was pushed in on impact.
Accident scene pictures showed a well-marked single carriageway with plenty of room on the yellow-marked sides.