HARARE – In the airline industry, you know you are really having a bad time if Air Zimbabwe can have a laugh at your expense.
Air Zimbabwe – for many the standard in inefficiency – has been trolling troubled budget airline Fastjet on Twitter.
Fastjet customers have taken to social media to express their anger after the airline cancelled or delayed several flights over the last week, amid revelations it could declare insolvency within days.
Fastjet customer Shumi Muzari was due to fly from Dar es Salaam to Harare on December 10 only to find the flight had been cancelled after arriving at the airport.
In-between labelling Fastjet "the worst" and describing their service as "appalling", a resigned Muzari ended her rant with this tweet: "Goodnight to everyone EXCEPT @fastjet."
To her surprise, it was Air Zimbabwe which responded with an animated 'Good Night… zzzzz' GIF.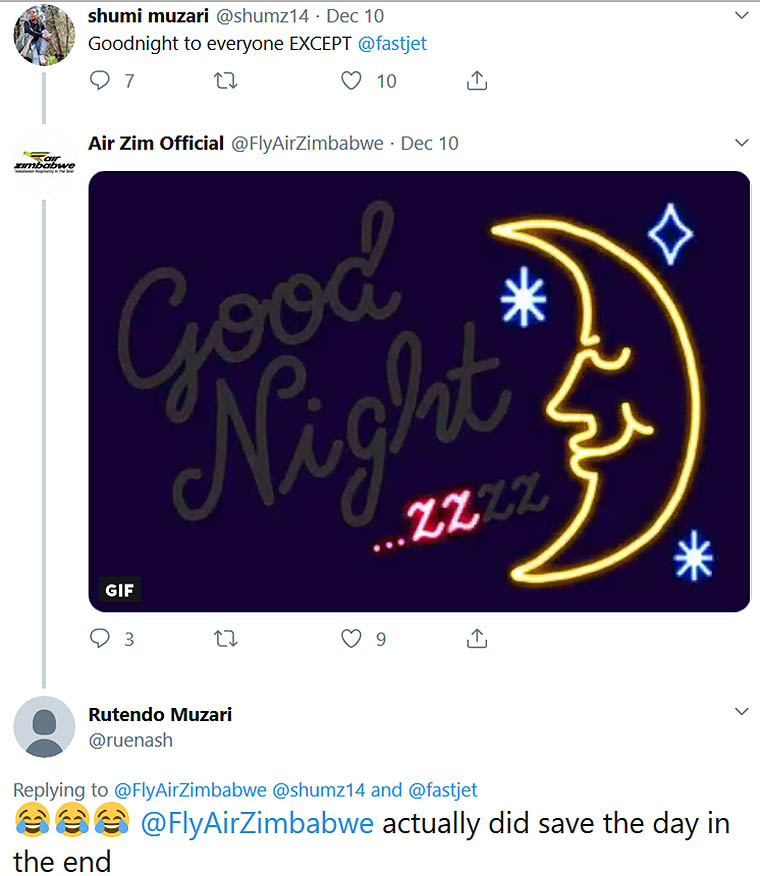 Air Zimbabwe – which is accustomed to social media bashing for poor service – had good reason to be smug. They rescued Fastjet's stranded passengers and flew them to Harare.
When Shumi's sister Rutendo tweeted that "@flyairzimbabwe actually did save the day in the end", the airline's Twitter team came back for seconds.
Alongside a GIF of a man who opens his shirt to reveal a Superman T-Shirt underneath, Air Zimbabwe absorbed the rare praise.
"We are glad we could help you! Look forward to welcoming you on board again soon," the airline said.
Fastjet Plc, whose first flights transported passengers from Dar es Salaam to two domestic destinations – Kilimanjaro and Mwanza – warned last Friday it may have to go into administration, shut shop or sell itself as it had only enough cash to keep it in business for another seven days.
The airline, which had a cash balance of $6.8 million as of Thursday (December 13), said it might have to formally hire insolvency advisers for the process if its cash balance does not improve.
At least $6.4 million of that cash balance was restricted cash held inside Zimbabwe. Zimbabwe, battling a major foreign currency shortage, owes foreign airlines over $70 million.
Fastjet, launched in 2012 and modelled on the likes of no-frills airlines easyJet Plc and Ryanair Holdings Plc , has been cash-strapped for more than two years due to tough conditions in its home market, Tanzania.
The airline, which operates in Tanzania, Zambia, Zimbabwe, Mozambique and South Africa, warned at the end of September that it needed to boost its finances within days to survive.
The airline had planned for additional funds and equity refinancing in November to raise its capital base by at least $40 million.
Fastjet said that discussions with stakeholders so far had been positive, but there was no guarantee of a successful outcome.
It also said it had conditionally raised about 550,000 pounds via an open offer of 55.17 million shares.
Fastjet's shareholders include activist M&G Investment, Janus Henderson and South African carrier Solenta. It was founded by Stelios Haji-Ioannou, the son of a shipping magnate.
Fastjet's shares have slumped almost 89 percent this year, and were over 5 percent lower at 1.45 pence at 1554 GMT on Wednesday.