BULAWAYO – Fans faced access chaos at Barbourfields Stadium on Saturday as a record crowd watched FC Platinum's CAF Champions League group stages bow against Orlando Pirates of South Africa.
Organisers appeared overwhelmed by the huge turnout, with long queues still forming outside the stadium at half-time.
Thousands of football lovers, among them Zimbabwe national team assistant coach Bongani Mafu, abandoned plans of watching the match and went home or nearby pubs to catch it on television.
ZIFA deputy president Gift Banda, Bulawayo mayor Solomon Mguni and former Zimbabwe captain Benjani Mwaruwari were some of the VIPs who struggled to gain entry into the ground.
A VIP access gate, as well as traffic access into the ground which the VIPs had hoped to use, were besieged by desperate fans.
In one instance, fans broke down a perimeter wall between the Mpilo end and the VIP section and flooded in, before police regained control supported by dogs.
It seemed the whole of Bulawayo had turned up.
The chaos should sound alarm bells to ZIFA bosses, who need to rethink the security of fans at football stadiums, particularly around ticketing and unimpeded access by sponsors and accredited officials.
Inside Barbourfields, fans packed the stands as some precariously perched themselves on top of advertising boards with very little care for their safety. In April last year, a Highlanders fan fell to his death from one of the advertising boards.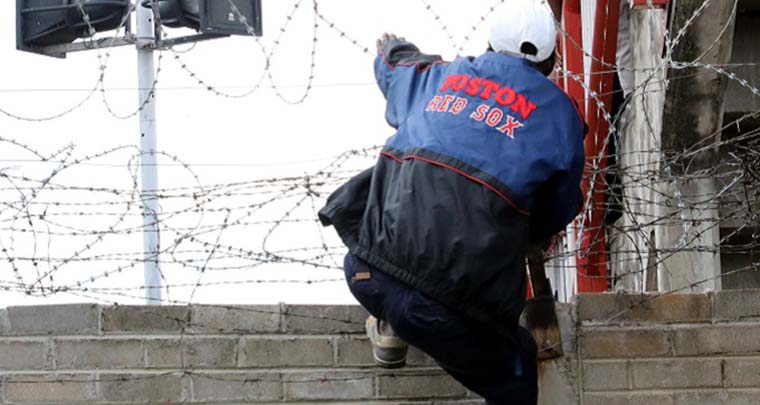 Most of the fans were rooting for Orlando Pirates, the second team of choice for most Highlanders supporters who wore their black and white – also the colours of the visiting team.
The match was a disappointing scoreless draw – but the teams and fans alike would have enjoyed the spectacle.
FC Platinum would have loved to have played the match at their fortress Mandava Stadium in Zvishavane – which was condemned by CAF – but they could not have wished for a grander occasion to join the big boys of African football than Barbourfields provided. When the numbers come in, the money from gate takings will prove this to be quite easily be their biggest grossing match ever.