JOHANNESBURG, South Africa – A Zimbabwean aid worker declared she had "seen God's hand" after changing flights and avoiding the ill-fated Ethiopian Airlines jet which crashed on Sunday, killing all 157 people on board.
Farirai Munatsirei Chataurwa, who works for a United Nations agency, the World Food Programme, told friends on Facebook she was booked on the early departing flight ETH302, but changed her booking to another flight that was leaving two hours later.
"Dear friends and family, today I have seen God's hand in my life. I was booked on the ET flight that crashed from Addis Ababa to Nairobi. I thank God I changed my flight to the 11AM one. I am alive and safe. Counting my blessings double," Chataurwa said in a Facebook post.
The tragic flight left Bole airport in Addis Ababa at 8.38AM local time, before losing contact with the control tower just a few minutes later at 8.44AM. It crashed into a vast plain of Ethiopian countryside, killing all 157 people on board – eight crew members and 149 passengers.
Passengers from 35 countries were on board, including Britons, Kenyans, Americans, French and Chinese. Many of the passengers were heading to a UN conference on the environment, where about 4,700 people gathered in Nairobi starting on Monday.
The United Nations said it had lost 21 employees in the crash, which is under investigation.
Chataurwa, who lives in Mozambique and works as a regional human resources officer for the WFP, did not say what made her change her flight plans. She had not responded to questions left for her on Facebook.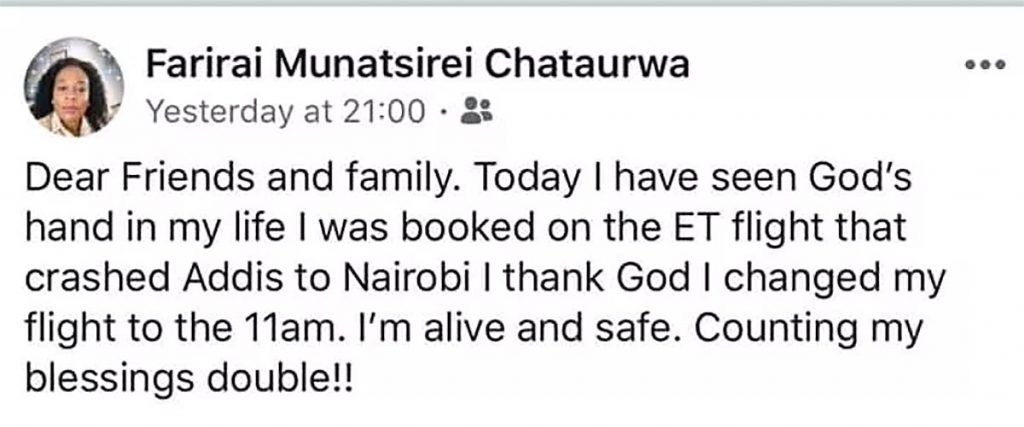 Speaking on Monday, UN Secretary-General António Guterres said it was "a sad day for many around the world, and for the UN in particular."
"A global tragedy has hit close to home, and the United Nations is united in grief," he said, extending his "deepest condolences" to the relatives and loved ones of all those who died.
"Our colleagues were women and men, junior professionals and seasoned officials, hailing from all corners of the globe and with a wide range of expertise," he said, adding that "they all had one thing in common: a spirit to serve the people of the world and make it a better place overall."
Sunday's devastating plane crash has renewed safety questions about the newest version of Boeing's popular 737 airliner.
The plane, a Boeing 737 Max 8, was new. The weather was clear. Yet something was wrong, and the pilots tried to return to the airport. They never made it.
In those circumstances, the accident is eerily similar to an October crash in which a 737 Max 8 flown by Indonesia's Lion Air plunged into the Java Sea minutes after take-off, killing all 189 people on the plane.
Safety experts, however, have cautioned against quickly drawing too many parallels between the two crashes.
William Waldock, an aviation-safety professor at Embry-Riddle Aeronautical University in the United States, said suspicion will be raised because the same type of plane appeared to crash the same way — a fatal nosedive that left wreckage in tiny pieces.
"Investigators are not big believers in coincidence," he said.
Waldock said Boeing will look more closely at the flight-management system and automation on the Max. But he noted that it is very early, and more will be known after investigators find and analyse the Ethiopian plane's black boxes.
Alan Diehl, a former United States National Transportation Safety Board investigator, said the similarities included both crews encountering a problem shortly after take-off, and reports of large variations in vertical speed during ascent, "clearly suggesting a potential controllability problem" with the Ethiopian jetliner.
But there are many possible explanations, Diehl said, including engine problems, pilot error, weight load, sabotage or bird strikes. He said Ethiopian has a good reputation, but investigators will look into the plane's maintenance, especially since that may have been an issue in the Lion Air investigation.
By contrast, the Ethiopian Airlines CEO told reporters that a maintenance check-up did not find any problems with the plane before Sunday's flight, "so it is hard to see any parallels with the Lion Air crash yet," said Harro Ranter, founder of the Aviation Safety Network, which compiles information about accidents worldwide.
"I do hope though that people will wait for the first results of the investigation instead of jumping to conclusions based on the very little facts that we know so far," he said.